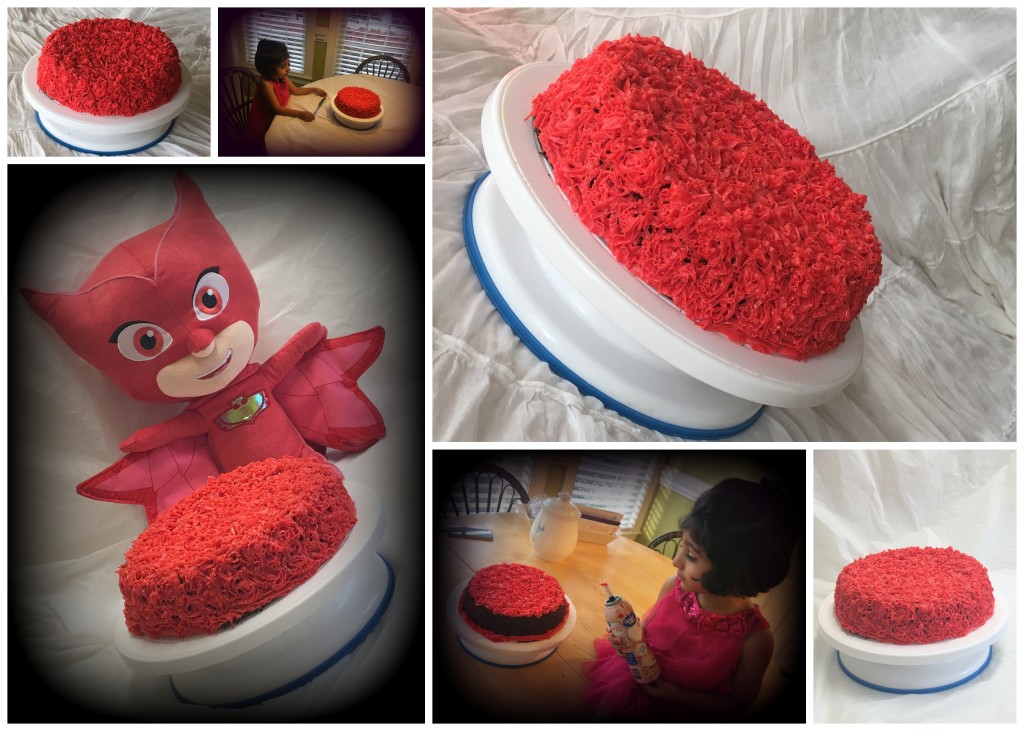 Cooking with a toddler is a wonderful experience by itself. If he or she happens to share your passion, then…it's even better.

If you haven't tried cooking with your children, yet…maybe you should consider it! However…it has its own drawbacks…only because, it won't be as you planned. Lol.

 And, well…its really not about the outcome, (you know) but the entire experience! Get the picture?? If you stay little bit cool and take everything light…I bet, its gonna be fun.

So, any guesses?? Yes, this Red Rosette Cake is my little one's creation.

A Beautiful Disaster in my opinion. I taught her…how to swirl a lower case letter "a" like a Tiny Rose on a butter paper. She did her best. Only thing is…it turned out like a bunch of Hibiscus. Lol

However, we loved it.


To me – It's very hard to believe…how much heart and soul a three year old could put forth for a near-perfect cake! Boy, I still lack this ability in all my work! Anyway, its like a Masterpiece…to me, as a mother.

So, here is her work.
Little Tara Bakes 
Break three eggs…never mind, if Mom keeps yelling about the shells!

Add oil, (measured by Mommy)…more generous, more nice!
Add water (measured by Mommy)
Mix mix mix….Be Happy…Mix mix mix.  
Add powdered flour and other ingredients (measured by Mommy, again)
Mix mix mix – Be Happy – Mix mix mix.  
Allow Mommy to transfer the contents to a baking dish.
Help Mom…by bringing gloves, mitt etc.

Help in popping the dish into the oven.

Push button – "Start" on the pre-set oven

.
Voila.
Check – now and then on the cake.
Allow Mommy to take the cake out and cool it on the counter.
Come up with an icing plan.
Listen to Mommy for couple of minutes – all about how to squeeze the icing and all. Then, do your business, totally your way. Feel Good about it.  
Then, you know…Hooray. The cake is ready.
Help Mommy to take some quick pictures. Now…time to dig in. Enjoy.
Happy Baking Everyone.