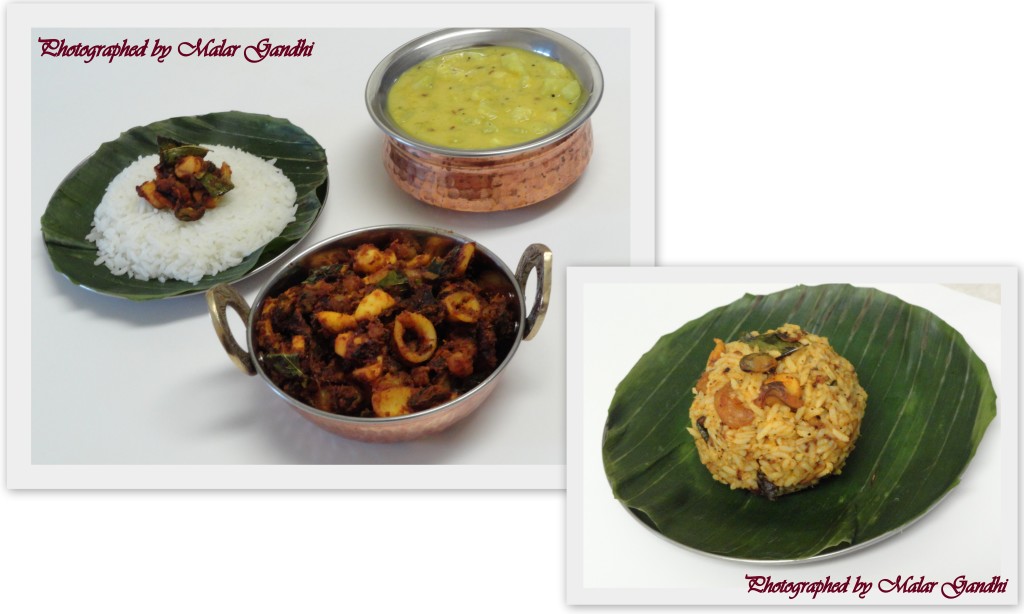 As much as I love to play with ingredients and act as a professional butcher. There are few things that would completely gross me out! Oh yeah…I really shy away from weird sea creatures! Well, I do have a valid reason for that! As a Biotechnologist, I have had enough encounters in the past, with such specimens on my  dissection table!!!
Recently I had a long chat with good ole friend of mine, who rekindled those lovely memoirs! Well, I got to confess to her, how I have changed over years and started feeding on those seafood with great enthusiasm, now.

Hmmmm, the change did happen after coming to U.S. when you have so limited options to fill you up.

Moreover, the fancy pack of soooper kleeen, chopped, odorless food, sure delights you to pick! And, why wouldn't I cook them.

Ingredients
1 pack seafood mix(Mussels, squids, octopus, shrimps, fish, crab meat)
1 bulb onion, grated
7-10 garlic, crushed
2″ ginger, grated
curry leaves few
salt
1/4 tsp turmeric
1/2 tsp chili powder
1 tsp pepper powder
1 tsp cumin seeds
2-4 tsp oil
Method
In a wide wok, heat oil and add cumin seeds and curry leaves.
Followed by onion and ginger plus garlic…fry till aromatic.
Add salt, turmeric, chili and pepper powder too.
Then stir-in chopped mixed seafood to this. Cover and cook briefly.
Remove the lid and stir-fry over high until all the moisture is sucked up.
Serve to go with your steamed rice.