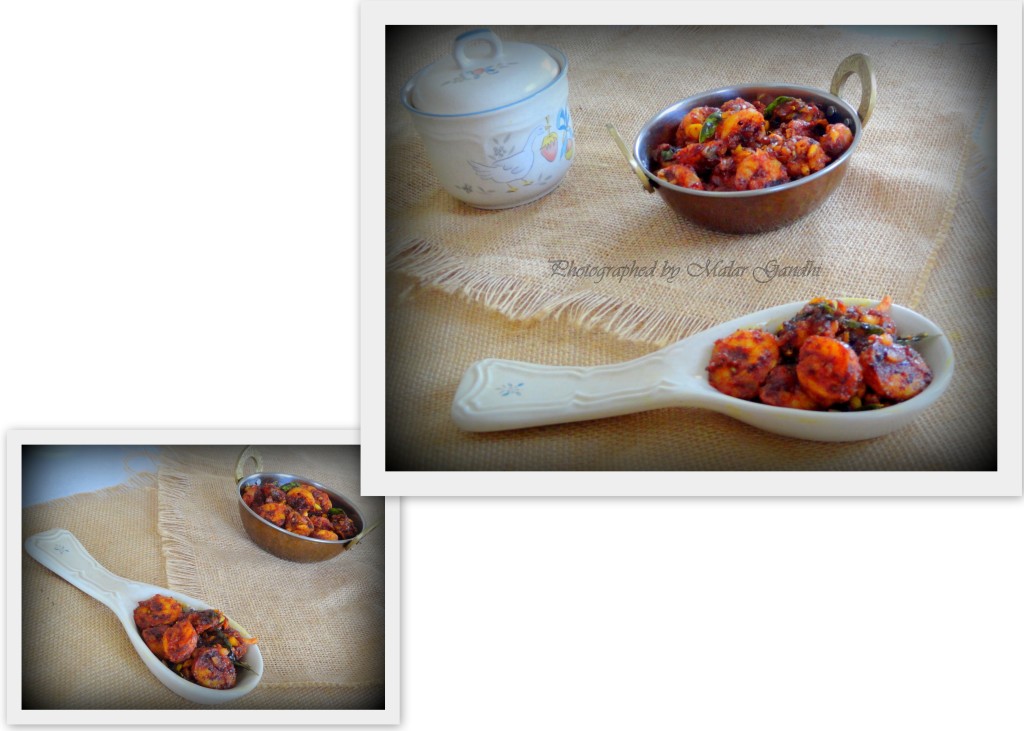 Shrimps Pickle is one of the best dish…I have ever relished during my hostel life. It lasts forever without going stale in a Tropical weather! With few spoon fulls…it stops everyone's seafood / meat cravings instantly. The spices are so intense that even a bad hostel rice gets aromatic. Needless to mention, it attracts crowd. So, this is one of the main item (other than books), that we used to take care to pack before leaving to boarding schools. Now, off to the recipe.

Ingredients
2 cups of shelled, clean shrimps
1-2 spring curry leaves
10-15 garlic – minced
4 shallots, finely chopped
1-2 inches ginger, grated
1-2 chilies, flakes
oil for pan frying
Balchao Masala 
10 kashmiri chilies
1 inch ginger
5 beads of garlic
1 tsp cumin seeds
1/4 tsp turmeric
1 Tsp tamarind paste
1 cinnamon stick
5 cloves
4 peppercorns
100 ml vinegar
Method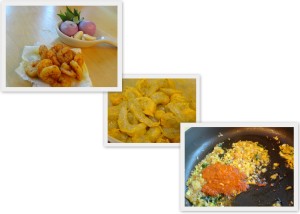 Wet-grind the Balchao masala using vinegar. Set aside. Marinate shrimps with salt and turmeric for couple of hours and deep fry them. Set aside as well. In a skillet, bring oil. Add all the ingredients mentioned above and saute for couple of minutes. Then, stir-in balchao masala to it. Add fried shrimps as well. Now, stir-fry these until oil shows up on the sides. Then, remove from heat. Serve warm to go with your meals. If something is left behind…store it in an air-tight jar. The shelf life lasts for more than couple of weeks in a Tropical weather like India.