Did I ever mention, how much I like Kerala dishes. In my opinion they have wide range of varieties than many other states (and I could be wrong too, I haven't dined in so many states of India…after all). Anyhoo. The stew (Ishtu) is so very mild and aromatic, its completely devoid of chili powder (that's my favorite reason to like it).  And, basically no other ingredients masks the main ingredient(Shrimps). The only add-on that makes it so very special  is 'freshly squeezed coconut milk'. Now, you all understood why I am ranting so much, right. Yes, coconut is a premium item to me. And, I rarely get them from Indian stores. Anyway! Doesn't the recipe sound interesting? Its a perfect medley for Appam and iddiyappams. What more do you expect to buy yourself into this?? Come on, be brave to check this out.

Happy eating.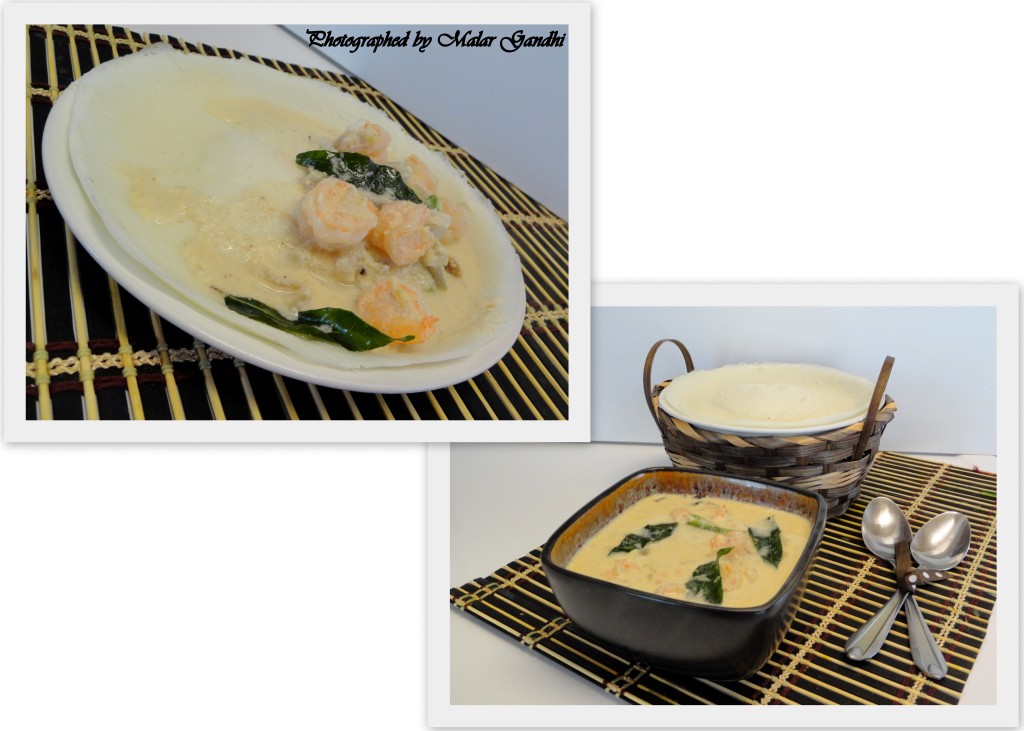 Ingredients
1 pound fresh shrimps, peeled-deveined
1 large coconut, extract milk
3 green chilies, slitted
1 large onion, sliced
1 bay leaf
1 cinnamon stick
3 cloves
5 cardamom pods, crushed
curry leaves
few tsp coconut oil
Method
In a wide wok, heat oil. Add the spices and followed by green chilies. Wait till it pops.
Further add onions and shrimps. Saute for few minutes. Add salt and coconut as well. Cook without lid over medium heat. When is done, remove from heat.