I love fixing one pot meals for the great comfort at two level: easy plus satisfying. By adding few basil leaves to the simple fried rice, it overwhelmingly becomes quite tempting and aromatic. Sometimes, it becomes my post-workout menu…the day I do the yard work, by default I automatically make this dish! If you have chopped the vegetables ahead, it makes the whole process easy.
Ingredients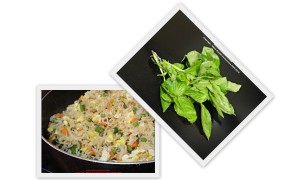 Cooked rice – 1 bowl
Thai chilies – chopped
Chopped vegetables (carrot, beans)
Peas 1 table spoon
2 Eggs, scrambled
MSG
Salt
Soy sauce
Basil leaves few
Sesame oil few spoons
Basil leaves few.
Method
Stir fry vegetables with little oil and enough salt, MSG and set aside. In a large wok, add oil and stir-fry rice until oil coats to all the sides. Then add soy sauce to it. Followed by scrambled eggs, vegetables and basil leaves. Once it turns aromatic, remove from heat and serve immediately.