As much as I love sweets, the weirdest part of me craves salted snacks too. With very limited options in the market (hell with potato chips), I am forced to fix my own. When it comes to traditional sweets and snacks, as far as I remember…I never witnessed my Mom making one at home, she happily bought everything from the stores. Personally, I too prefer store-bought goods…they have much predictable taste. However, I also wanna kill my time meaningfully. Rather buying it online…I would like to waste some time upon attempting these recipes.

That way, no one will ask for it again…so less cravings, less weight gain….how about that?! Hope, from the rant, you understood that…it didn't turn very well! Yes, I added a pinch of bicarbonate to it and it ruined the whole thing. But, I suppose…if you skip that part, it would taste just right. Happy cooking, folks.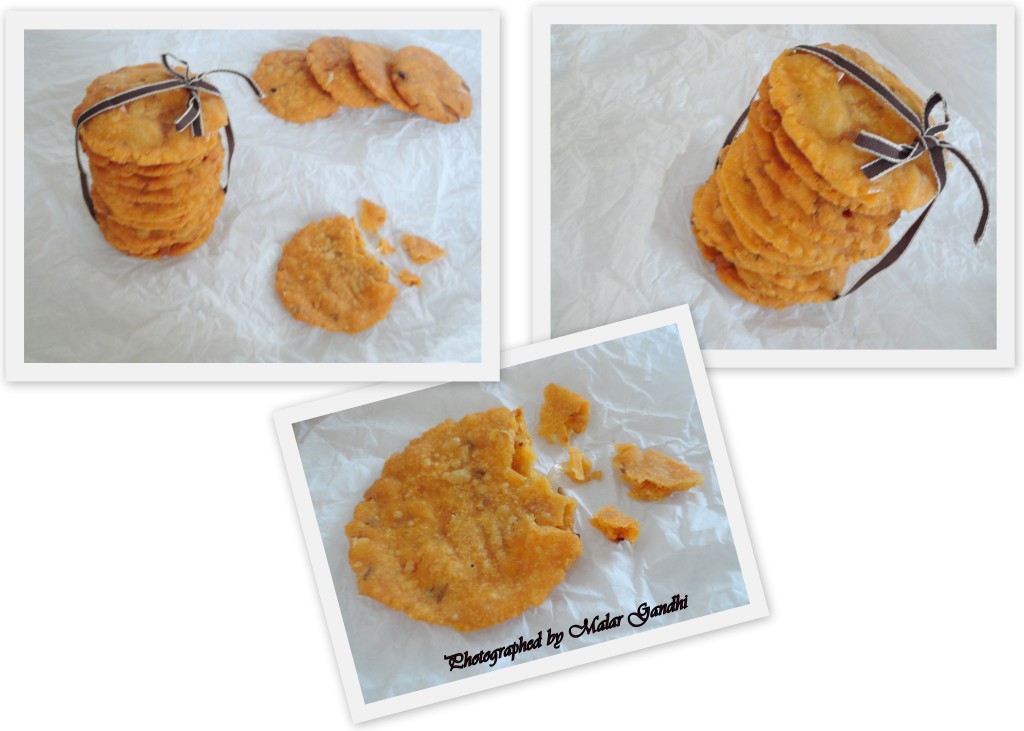 Ingredients
2 cup rice flour

1 cup urid dal flour

salt

10 unpeeled garlic – crushed 

3-5 dry red chilies – crushed

1/2 tsp cumin seeds

2 tsp roasted peanuts

1 tsp sesame seeds

1/2 tsp chili powder

few curry leaves

1/4 tsp asafoetida

1/2 stick butter

oil for deep frying
Method
In a wide vessel, bring all the ingredients (except oil), mix well. Divide them into equal parts. And place them over butter paper and press-flatten it out using suitable object. 

Then, deep fry them in hot oil until golden to reddish brown. 

Store in an air-tight jar. Serve up as tea time snack.