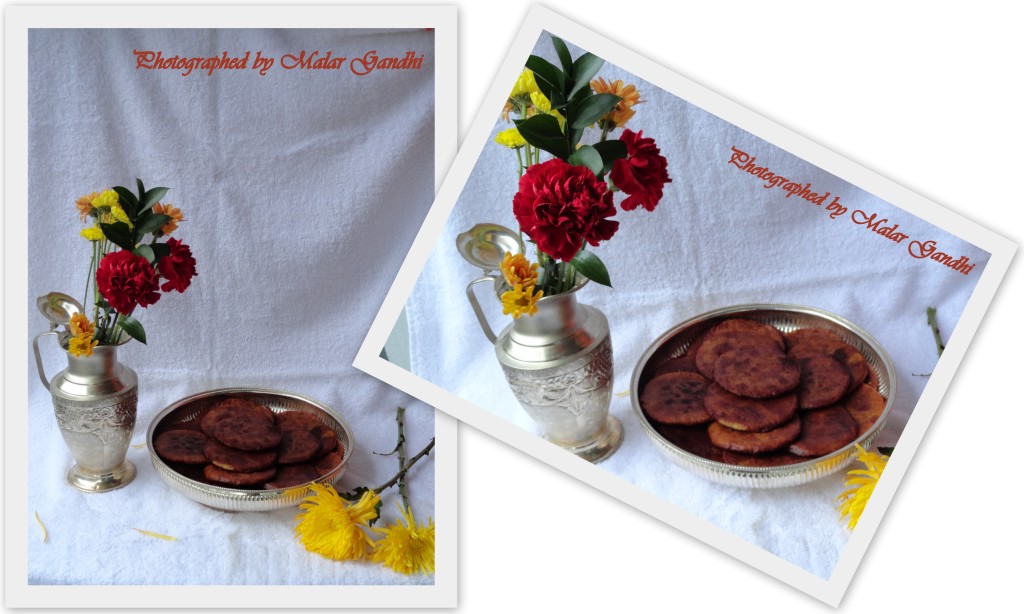 Time is working against me. I wish, there is 27 hours a day! Or, it would be very nice…if someone could generously lend me, couple of hours from their free time.


Well…this is one of the several times…I am trying to update this lil space! Apparently nothing from my end goes as per plan. As life throws its curve balls…I have become a worst blogger, ever! Nope, not exactly…am ain't that bad…its just an exaggeration!! Seriously…am lagging so much on everything plus blogging these days. But, I got to admit that I have been monstrously busy, since 2014 slid in. And am hardly cooking these days and let alone taking pictures. So, here you go…am sharing one of my Dad's culinary marvel with you all in order to dust this blog back to shape. Yep, he surprised me with this homemade goodies, when he visited me…soon after a Diwali. And, yes…my actual Diwali started then.

Ingredients
2 cups raw rice
1 1/4 cup jaggery
1 tsp cardamom powder
1/2 dry ginger powder
1 tsp ghee
oil for deep frying
Method
Wash and clean the rice and shadow dry them for couple of hours and powder them while its still bit moist. Then, sieve and set aside.
Meanwhile, prepare a strong jaggery syrup and remove the impurities and continue boiling again. Add ginger powder plus cardamom to it. The syrup should be so thick as it forms lumps, when it is dropped in the water.
Now mix this with the rice flour and prepare a soft dough…add a spoonful of ghee for a smooth finish. Divide them into equal parts and set aside.
Grease a zip lock bag and flat them down into uniform thickness adhirasams.
Heat oil in a deep frying pan, and fry them till golden to reddish brown. Use a slotted spoon and remove from oil and immediately compress it with a flat spatula to remove the excess oil. Then leave them over kitchen towels.
Serve warm, cold or at room temperature. Store them in an airtight containers, stays fresh for more than 3 months if handled carefully.