Also Known As Coconut Burfi.Thengai Burfi. Nariyal ki Burfi. Coconut Fudge. Candied coconut.
I love Madras Shree Mithai special 'Nariyal ki burfi' . Although I don't want to rule out their other house specialties like 'gajjar ka halwa (carrot fudge), badam kheer (almond milk), soan papdis  and jilebis. If given a chance, I would gladly dig-in.

But, coming to think of this coconut fudge, its of different league! Yeah, if someone took a teeny bite from my plate, I would probably do it all over again! Guess, I can't share it with anyone…sorry folks.

It never occurred to me, that I could actually replicate their art work at home!!! Yeah, I sincerely feel that their recipes are some kind of divine intervention. All until recently…I got relocated to North Carolina at that time…my sugar cravings hit me again! I wanted to enjoy that coconut fudge…the chewiness, and fudge-ness all over again. So, I made one. Not exactly, its so hard to resist with just one, so I made a bit more.

Every one makes mithai (sweets) for special occasions, and I am bit different…I made sweets and then announced my occasion. To cover that awkward bit, I lied…"its my house warming treat".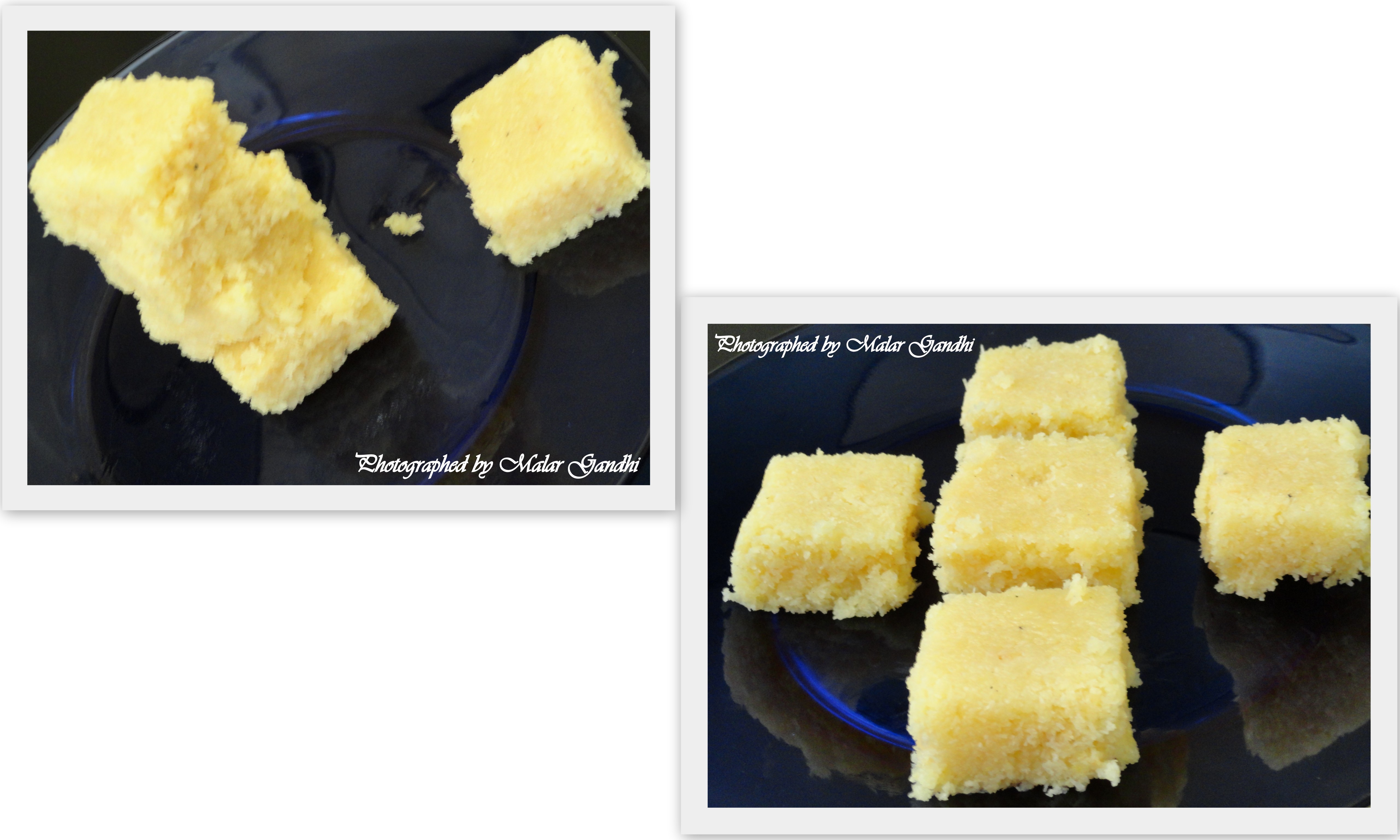 Ingredients
2 cups dessicated coconut (coarse powder)
1 cup condensed milk, sweetened
1/4 tsp cardamom powder
1-2 tsp ghee
Method
In a wide pan, heat condensed milk and add cardamom powder to it. Add coconut powder to it, continue cooking over medium heat, until you see a well-thickened mass.
Grease the tray with ghee and spread the above halwa on to it. Flatten them up and refrigerate for couple of hours.
Grease the knife and piece them into desired fashion. Serve chilled. It won't be exactly like a burfi (like a hard candy) rather kind of flaky and chewy.