Its better I agree…preparing traditional sweets is definitely not my league! Well…this is a pattern over the years! I yearn for our home style ethnic treats…soon I'll be checking out my fellow bloggers (obviously drooling over those food pictures) and load my kitchen with more stuff! At the end, my preparation sucks. How about that?
But, this time…God Of Luck really had some mercy on me. I did fairly decent. Or at least its his favorite food (as it is believed by many). So, here you go…my take on Mothagam.

Let Ganpath keep smiling all through our lives.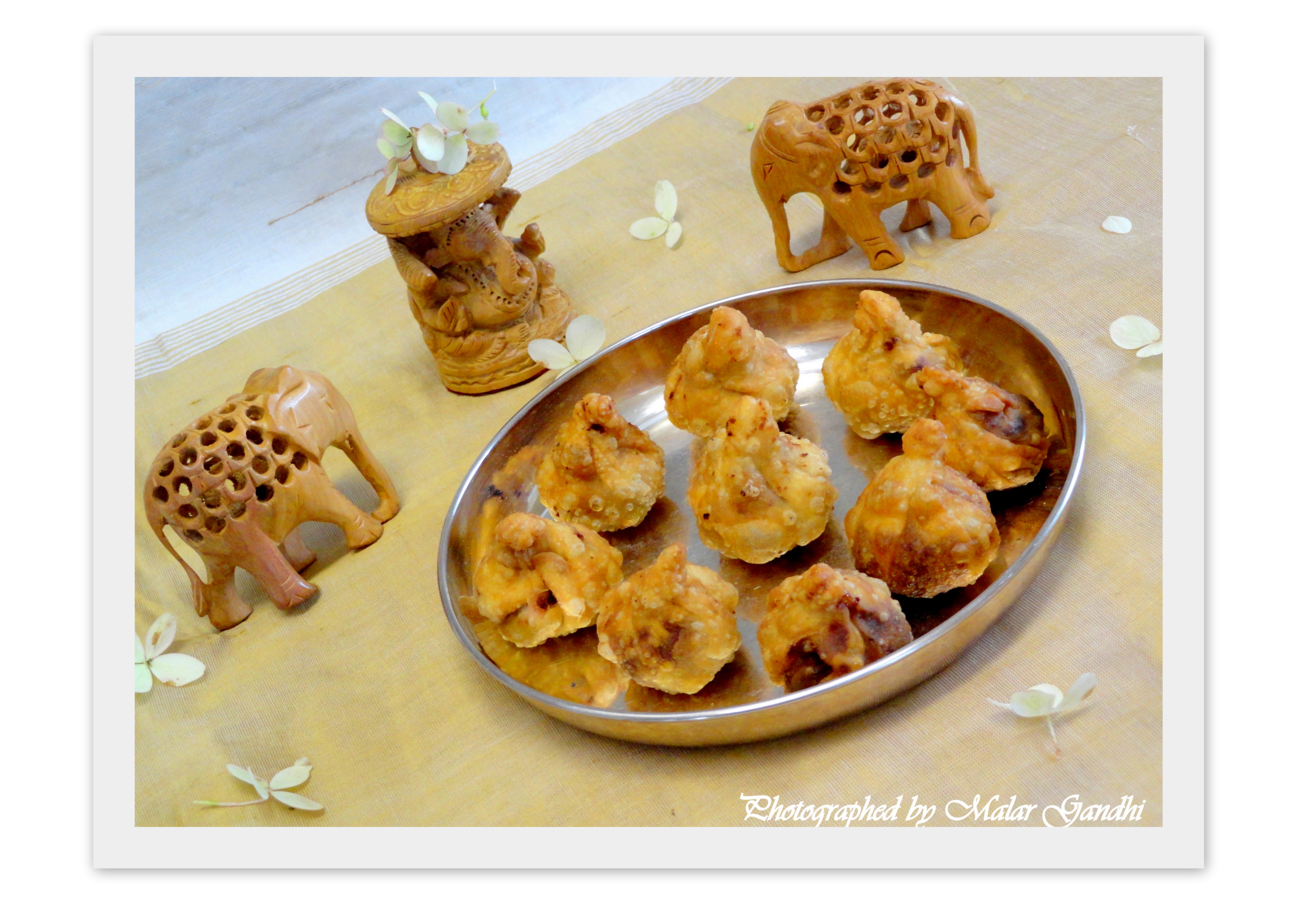 Ingredients 
1 cup all purpose flour
2 tsp of semolina (I didn't use them)
pinch of salt
2 tsp clarified butter
oil for deep frying
For The Filling 
1 cup grated coconut
1/2 cup jaggery
1/4 tsp cardamom powder
Note  Be creative and feel free to use as many items as you please to fill the Modak. For example…almonds, poppy seeds, lentils or raisins as filling.
Method
Prepare a tough dough using all the ingredients mentioned above (except oil). Set aside. Now, dry roast the coconut and add grated jaggery on to it. Keep stirring the set-up until it loses the moisture and turns up dry. Sprinkle some cardamom powder as well.  Now, this is going to be the filling.
Divide equal parts of the dough, roll them into thin discs. Approximately 3 inch diameter. Now, fill it up with a spoon full of coconut. Cover them up like a small garlic heads. How about that? Looks cool isn't . Yep, fry these yummies in hot oil until you achieve a crispy outer shell. It should be somewhere between golden and reddish tint.