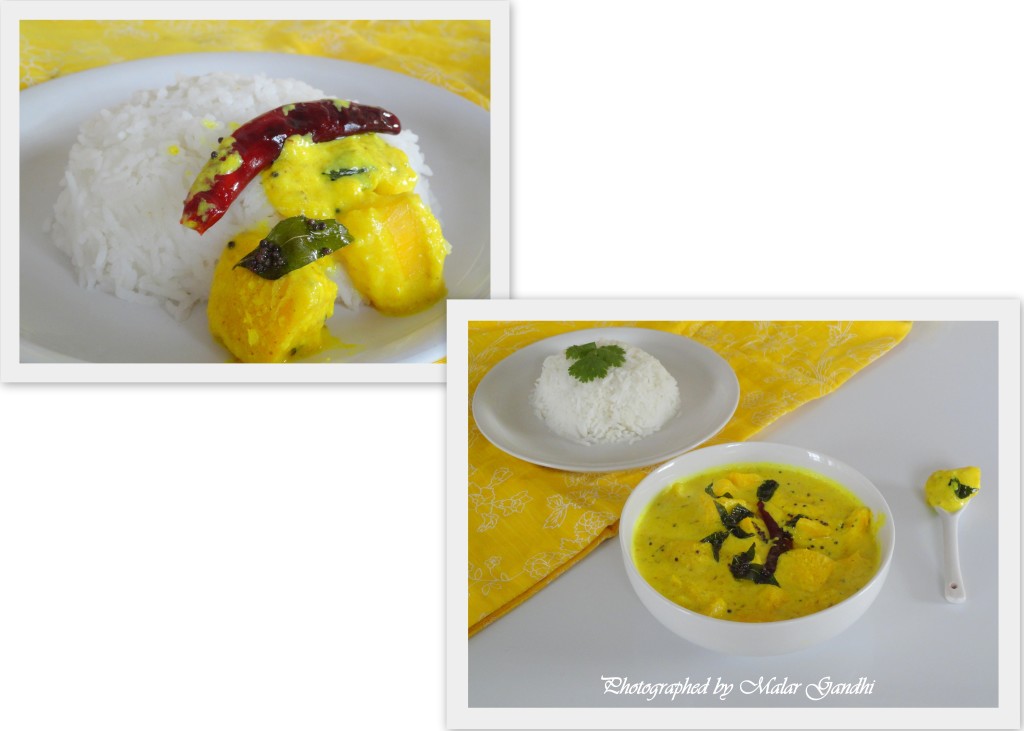 Other Names: Sweet Mango Curry. Maampazha Kuzhambu. Mango Curry.
Mango Pulissery – this recipe has to be one of the most loved dish of my family. It brings forth an intense nostalgia and an eclectic amalgam of memories…that are sweet n cool…and in association with people and place…that matters to me.
I tell you! A jar full of pickled mangoes – in my kitchen shelf…or a quick whiff of mango fruit – from the local grocery stores, can instantly deport me to my home land.
The story of a mundane Mango Tree…has memories wrapped around every part of it – intangible impressions that I have carried with me for years! The very dish, the sweet aroma, the taste…recipe…are part and parcels of the knots of my past! All intertwined with countless emotions and feelings! Which I could almost touch with a blade of grass…and just close my eyes…it could safely take me back and lay me down on my Daddy's lap.
Ingredients
2 cups mango, cubes
3 dry red chilies
1/4 tsp fenugreek seeds
salt to taste
1/4 tsp turmeric
1 cup grated coconut
1-2 Tsp jaggery / brown sugar
1 cup beaten – yogurts
1/4 tsp mustard seeds
1/4 tsp cumin seeds
few curry leaves
1 pinch asafoetida
1-2 tsp oil
Method
In a wide wok, heat oil and add the tempering spices. Then, add mango, salt, turmeric, jaggery and yogurts to it. Cook over medium heat.
Meanwhile, wet-grind coconut, chilies and fenugreek seeds together and set aside.
Now, add this paste to the curry and continue cooking until oil shows up on the sides.
Serve warm to go with your meals.