Its not one of those pretty sunny days, here at Carolina and an immense rain cloud hovering up…so dark and gloomy. And, I've not gained my lost mojo for blogging, yet. Hmmmm, lemme give it a quick whirl! Nothing much to do on a day like this, you see!! Just grab a tall mug of coffee with quintessential warm foam floating on it…and star gaze endlessly! Not a great thing to rant, but. This is how…the day goes. Even though I plan and play some music in the background…the dullness sets in…if there is no enough sunlight!
Anyway! Though, I call it a dull day…but, not really dull on the menu part. Yes, I do have a strict regime for rainy days cooking. One thing must…it has to be hot, spicy and steaming hot (well, that's not one thing, three things.

) So, this is what I prepared today to lift up the spirits, Mutton Carrot Soup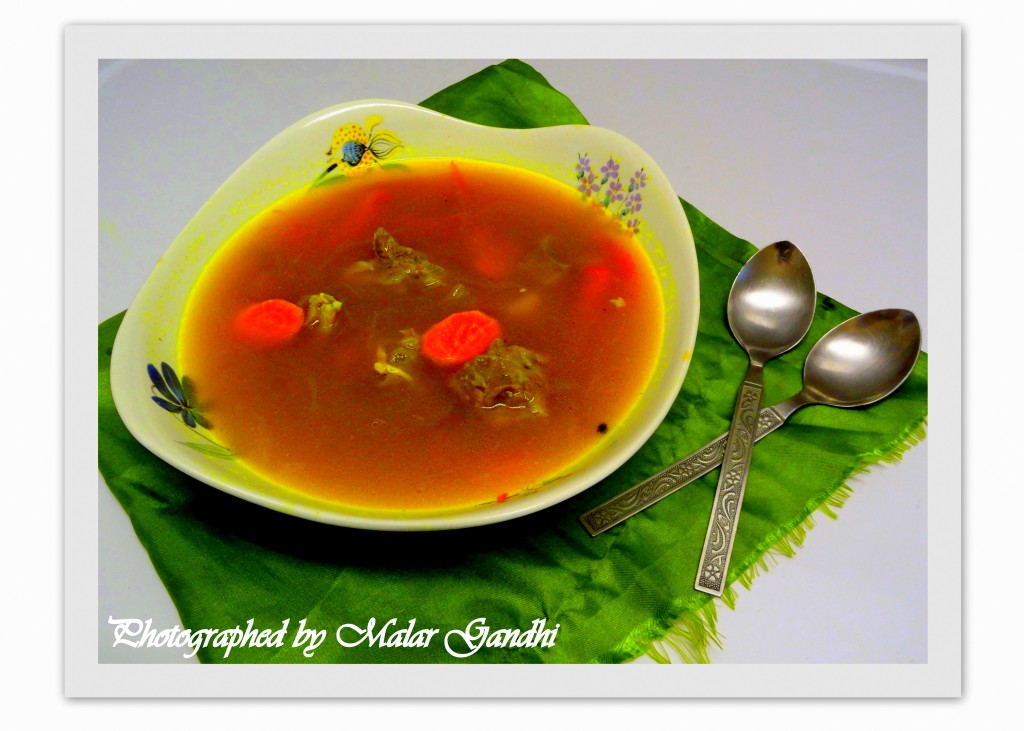 Ingredients
1 cup goat's meat
1 chili, sliced
1 onion, sliced
2 tomatoes, sliced
7-10 garlic beads, crushed
2 inches ginger, grated
1 tsp pepper powder
1 pinch of turmeric
1 tsp cumin seeds
1/2 tsp whole peppercorns
few curry leaves
few tsp of oil
Method
Cook meat with enough water and salt in a pressure cooker. Set aside. In a wide wok, heat oil and temper the whole spices. Add ginger, garlic,chilies, onions and curry leaves. Fry real good. Further add, tomatoes and powdered spices to it. Stir-in cooked meat along with it broth. Continue boiling until aromatic. Serve up steaming hot.