Also Known As Beeda, Sweet Beeda, Meetha Paan Beeda. Supari Paan. Thambulam, Vetrilai, Vethalai, Killi or Tambulam, Sireh (Malay), Sirih (Indonesian), Suruh (Javenese), Mark (Lao).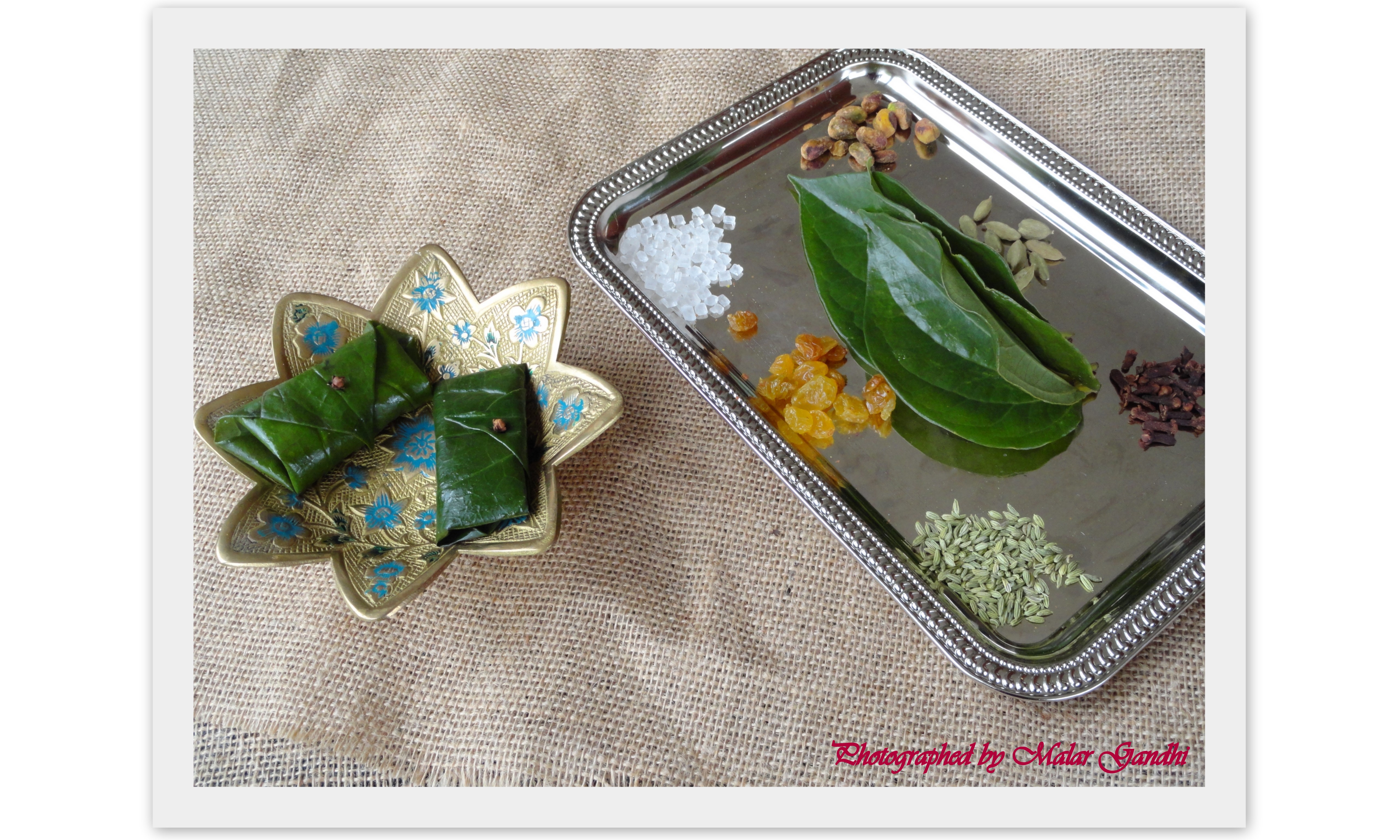 In India, offering a paan (betel leaves) has numerous meanings: it is an honor if presented to guests; it is a gracious hospitality when served after a festival meal; it is a pure devotion if offered to deities; it implies respect when placed over payments; it adds glamor when bride covers her face with these leaves; it means romance when wedded couple share it; and it signals an invitation to erotica if given to a lover!!
Betel leaves have been an integral part of Indian culture since time immemorial. Our ancient puranas and Rigveda has numerous citations of how paan being offered during the rituals of worship. To support this theory, there are many miniature paintings of Lord Krishna presenting betel leaf to Radha.  And at the heights of Mughal and Rajput eras, paan culture boomed among the royals.  And, needless to say that Mughals took it to next level of presenting it at various occasions with high decorations. All these indicate that this custom of chewing betel quids has been with us for at least thousands of years.
Even today, chewing paan is an ubiquitous sight in many parts of India. Just like wine tasters make their own choice, many paan lovers know their varieties and are quite particular about it. And there is a popular belief that chewing these leaves reddens the lips like a lipstick. However, the leaf itself does not have such property, but the slaked lime mixture (calcium hydroxide) used in these paan would turn the color of the mouth and lips into deep orange.
For generations it has been told that these leaves have medicinal value and it has high digestive quality. Indeed it has. Ayurveda claims that chewing betel leaves has a good remedy for bad breath. On the other hand, the areca nuts used in these preparations are scientifically proven to be carcinogenic to us (World Health Organization). And, in recent years 'paan culture' is highly criticized due to the cleanliness issues it creates! As chewers most of the time take it for granted and spit them out in the public places.
Ingredients
2-4 betel leaves
1/4 tsp slaked lime
1/2 tsp shredded areca nuts
1 tsp honey
1 tsp rose gulkand (rose jam)
1 tsp crushed pistachios
1 tsp grated figs
1 tsp grated dates
1 tsp lump sugar
1 tsp grated coconut
1 tsp fennel seeds
1 tsp raisins
1 cardamon crushed
2 cloves to pin the leaves
Method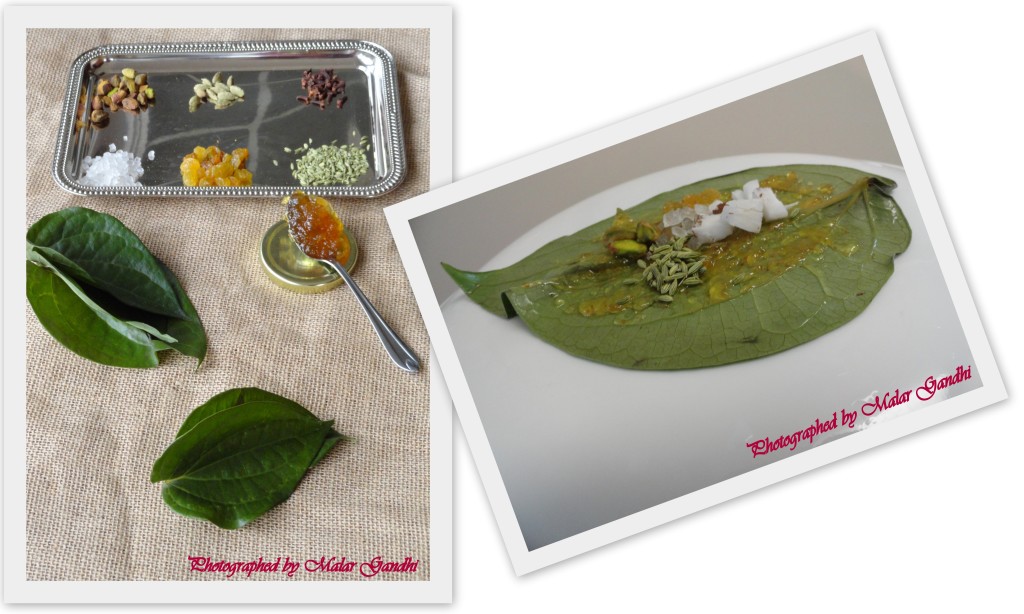 Remove the stalk and thick veins from the leaf. Wash and clean. Pat dry the leaves and arrange all the above mentioned ingredients on it. Fold in desired fashion triangle, rectangle or like a cone. Pin it up with cloves and present.