I love to transform my favorite recipes into something new. Yeah, it happens quite often. It's not too far from the base recipe though…but definitely gets a different appeal and felt fresh (or at least to me). Maybe I am a cooking nerd, but I just love the process of changing every raw ingredient into a meaningful meal.
Now…jokes apart, this is a wonderful recipe to try during this holiday season. Definite crowd pleaser! When its comes to recipe…its not very hard…imagine a roti, now…stuff it with paneer masala, fold and tuck them in butter papers! There you go, you made a beautiful job…that's Paneer Frankie. Enjoy.

Happy Holidays, friend.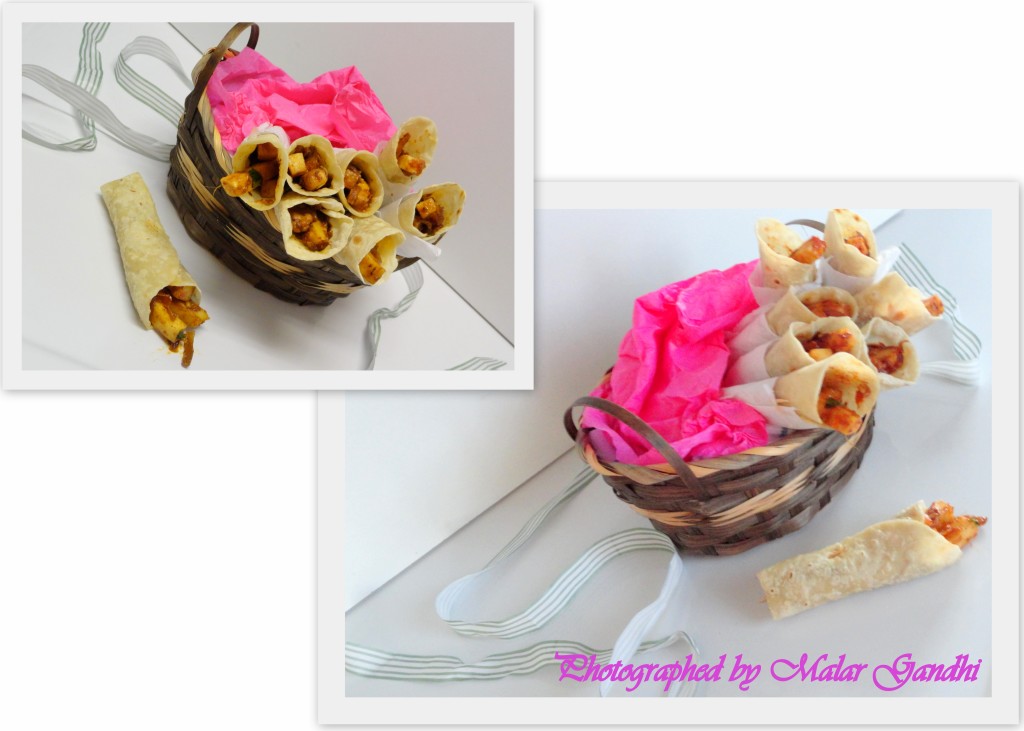 Paneer Kathi Rolls
Prepare a smooth dough using all purpose flour. Divide into equal parts and roll them down super-thin. Now, heat up the griddle and cook them both the sides and set aside.

In a wide wok, heat oil and add sliced chilies and two cups of sliced onions and couple of sliced tomatoes…fry real good and salt and chili powders. I sprinkled a tad bit of garam masala powder too. I topped it with some thick mushroom based soy sauce and a half a tsp of honey.  Now, you get get all creative with what kind of treatment you paneer requires. Then, stir-in sliced paneer and cook briefly. 
Now turn this in onto the open face rotis prepared…like a sanchwhich and fold them and pin it up with a toothpick, if necessary. And, cover them with butter paper at folded end. Serve up as a snack on the go.