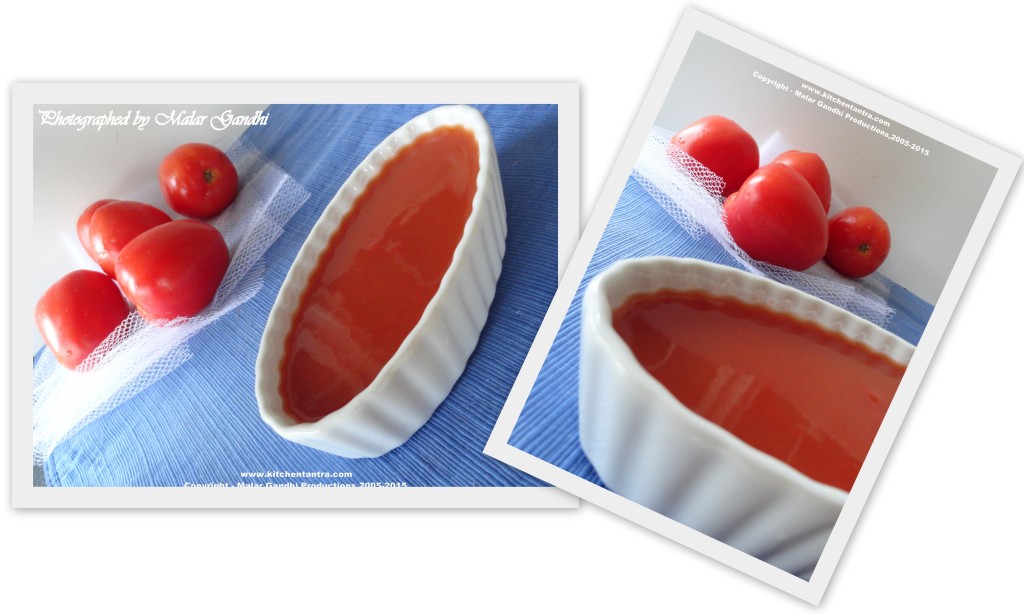 The basic tomato sauce is a good foundation to many Indian recipes. I can't imagine a feast without this secret ingredient in my pantry. Tomatoes are rich in flavor and high in liquid content. So, when you thicken it up into a sauce it turns out its potent qualities even more.
Whenever time permits, I make a huge batch of sauce and stash back in the refrigerator. And, my ordinary dishes are often brushed with this to add an awe factor. Hope, you all will like the idea.

Ingredients & Method
A bag of juicy tomatoes, a cap full of vinegar, a Tsp of olive oil and a tsp of sugar. That's it folks! If needed, you could flavor it up with garlic powder, chili flakes or ground pepper…I have no objection!
Now, scald these tomatoes in hot water and peel off their skin! Yes, discard the peel, unless you have a recipe for it on your own! Crush the tomatoes and set aside.
Then, add a tablespoon of oil to the sauce pan. Yeah, you got that right…apply heat.

Add these crushed tomatoes and all your remaining ingredients as well.
Cook these over medium heat until it thickens to the level of sauce that you desired.
Store them in an air-tight container and leave it in your refrigerator. Use wisely.