In my opinion, "There should be a story behind every humble recipe". Do you agree? Every time, I chat up with my friends, they keep unfolding all the reasons for every little tweaks in our traditional meals. It looks like…the way our Grandmothers cooked (or cooking) and Mothers cooked (or cooking)…it truly reflects their socio-economic status and the traditions they behold.
For example, the same 'Kuzhi Paniyaram', my Grandmother made it as an occasional treat for many members of her family. She made sure that the batter was heavy and used oil liberally in her iron skillet (There is a good reason for it, Grandpa was a whole sale merchant)! My mother prepared them rarely too, but for just myself and my brother. And, she had already altered the recipe to suit our needs…with ghee, sugar and more nuts. Growing up, it was fun food rather than a serious breakfast. Now, I prepare them too. I have carefully reduced the batter and topped it with more vegetables and dutifully spray oil on my non-stick skillet! And, make sure that I eat less of it and try to jog off the calories at the end of the day.

Look, how paniyaram has evolved in these three generations. Now, can we even call it an ethnic dish?!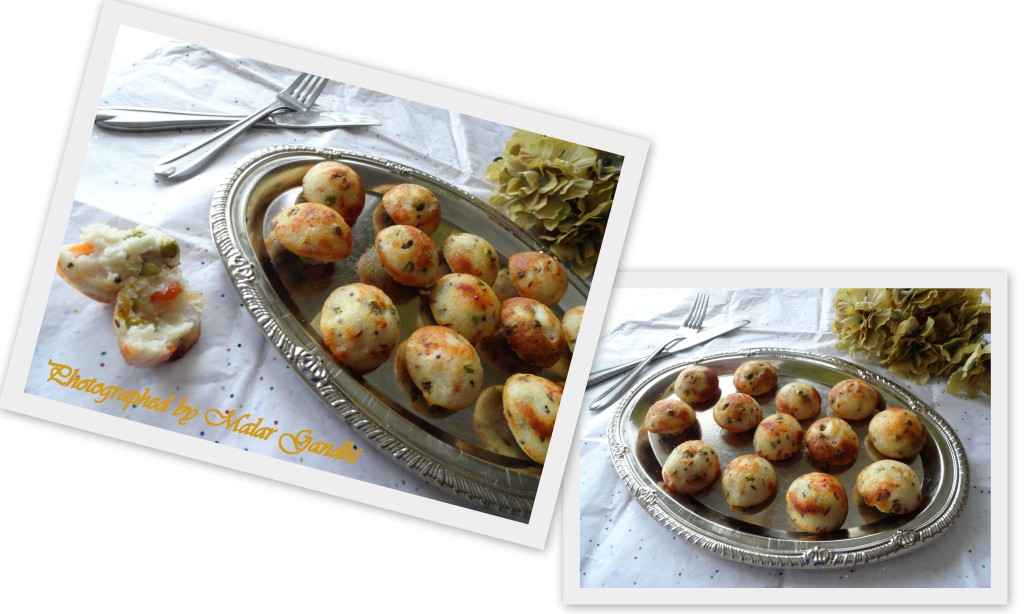 Ingredients
2 cups sour dosa batter
mixed vegetables (carrot, beans) finely chopped
3 green chilies, chopped
1 onion, chopped
1″ ginger, grated
salt to taste
1/2 mustard seeds
1/2 cumin seeds
1 pinch asafoetida
few curry leaves
few cilantro leaves
few tsp oil
Method
In a wide skillet, heat oil. Add the tempering spices to it. When they pop and splutter…add chilies, ginger and onion too. Saute briefly. Now, stir-in vegetables plus salt. Stir-fry for couple of minutes. Add cilantro leaves and remove from heat. Now, add the stuff to the batter and mix through.
Smear oil on your paniyaram molds. Pour a teaspoon or more batter to it. Cover and cook over medium heat. When its half the way, done. Turn the paniyarams to the other side. Allow this to turn golden to reddish brown. Remove from heat. Repeat the same for the remaining batter too. Serve up warm with chutney and sambar.