Milk and milk sweets! Certainly an undeniable affinity lies beneath in my genes. I love fresh milk, whole milk, split milk (with a hint of sweetness, of course) and what not! They are part of the important rituals and never to be rushed…social hours (for non-alcoholics). So, this is one of my favorite dessert (like I always say to all the sweet recipes) since college days. People usually celebrate their festivals with sweets, but here I am celebrating the sweet like a festival.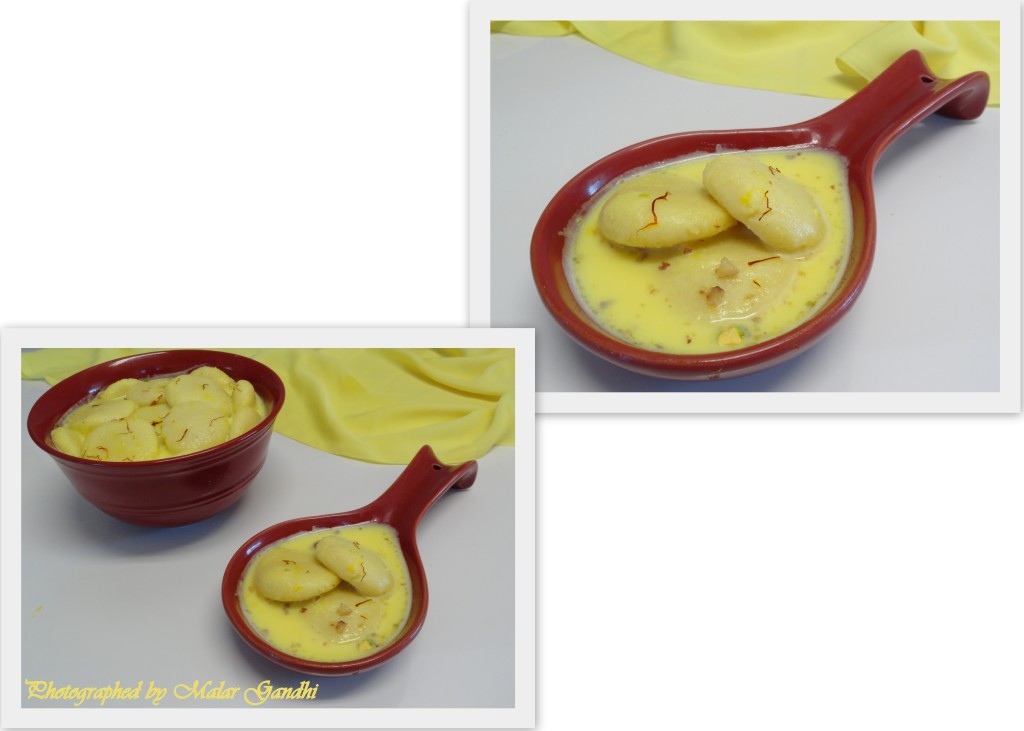 Ingredients
3 liters whole milk
1 lemon
1 can evaporated milk
3/4 cup sugar
2 cups sugar syrup
3 cardamom, crushed
5-7 pistachios, crushed
a pinch saffron
Method
In a wide wok, heat milk. When it boils…add lemon juice and split the milk. Now, run this curdled milk over the sieve or cheese cloth. Remove excess water and flatten the cheese. Cover and set aside.
Meanwhile, warm the sugar syrup and set aside as well.
Now, divide the cottage cheese into equal parts and shape them into discs. Repeat the same for the remaining cheese too.
Then, boil about 2 liters of water and cook these cottage discs in it. Roughly 10-15 minutes. Run a toothpick to check the tenderness in the middle. If it soft and fluffy, remove from heat.
Add these to the sugar syrup and leave it for five whole minutes.
Meanwhile…add enough sugar to the evaporated milk and cardamom to it. Heat this up to thicken and top it with pistachios and saffron. Chill the same.
Further, remove those cheese discs from the sugar syrup and drop them off in the milk prepared. Allow this to soak well.
Chill and serve as a dessert. Enjoy.