Indian Restaurants in America features almost a standard menu throughout the country.  Its quite tasty, no doubt about it, but its not an accurate representation of what Indian food really is. In fact, India means diversity and it has too many regional cuisines. However, most of the restaurants in America, feature only Punjabi cuisine, a regional variation! If you want to know the reason behind it, we will have to go back in the history.
Apparently, India did not have the concept of eating out in the past! But, during British rule, there were very few eatery establishments emerging in the Punjab province. Later, when the partition of India happened, many Punjabis migrated to France, Canada, Australia, U.K. and America. They were the ones who first started the Indian restaurants in foreign soils! They were quite successful in U.K. with their famous fish and chips restaurants, where people were already predisposed to Indian curries and spices. But, here in America, their story is different, it was not easy for those early settlers to compete with other ethnic cuisines. They opted out for other jobs opportunities and confined their cooking to the level of buffet meals for the masses. Which became a favorite food of undergrad students on a tight budget!
Today the scenario is different, the second and third generation Indians know the market very well. They are trying to set up their establishments in a up-scale fare in the downtown. Yep, no more dim-lit, sitar playing, shining-red table cloths in those places…and the food is served in small portions with grand garnishes. And, now the Indian restaurants is catching up in the west, slowly! People are turning to more and more exotic flavors and looking out for spicy meals.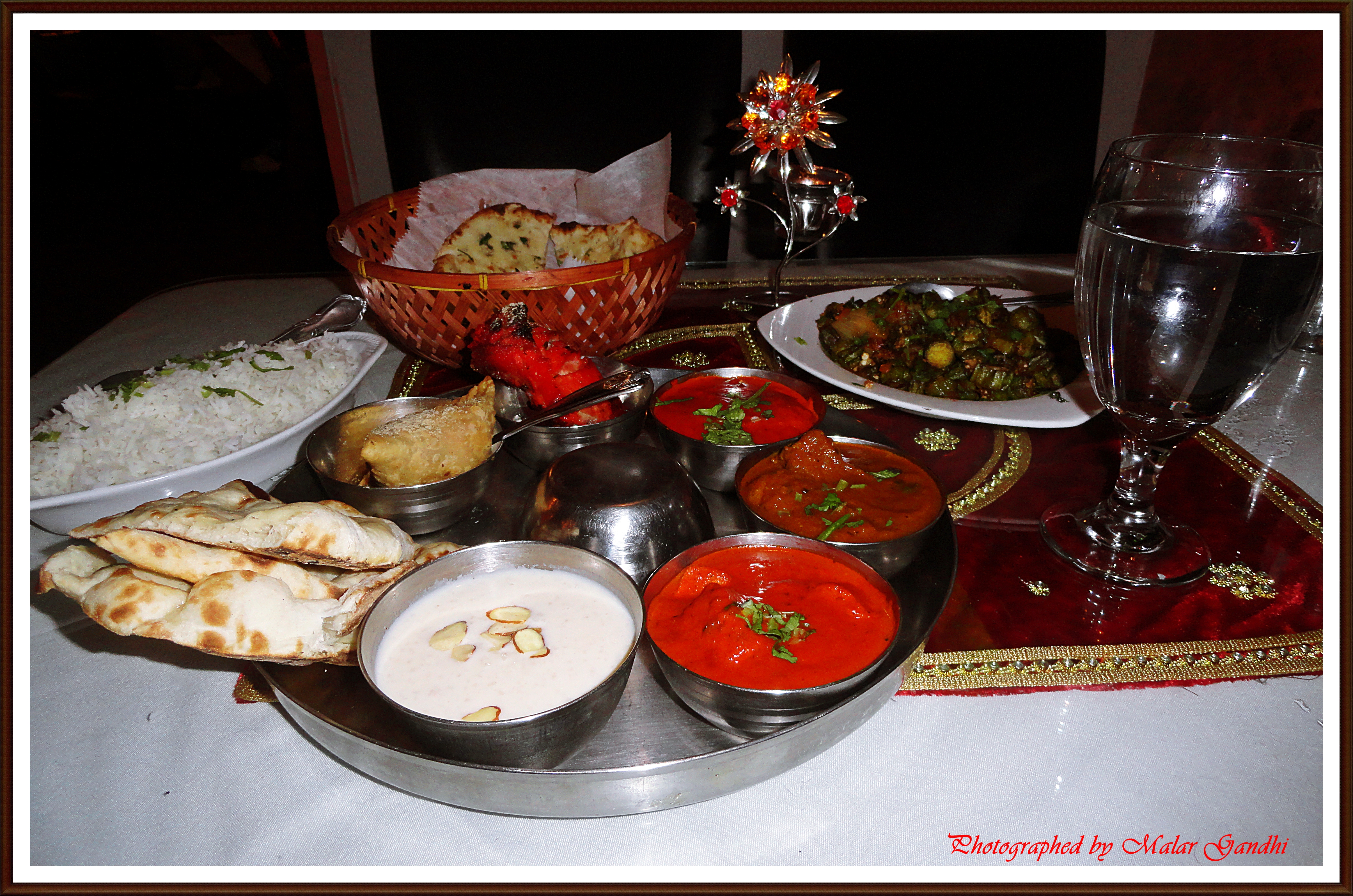 What To Order At An Indian Restaurant – A foreigner's Guide
For Recipes and Food Pictures, click on the hyperlink. That looks in this color: Dish
Appetizers
 Samosa - Imagine vegetable spring roll…now replace the contents of it with potato filling and change the shape into 'Triangular-dish'; what do you see? That's samosa. It is a a deep fried potato stuffed (or sometimes meat stuffed) piece of morsel.
Pakora - Have you ever eaten onion rings? Would you mind if I slice those onions even more thin and throw in few strong spices? Then, this dish is for you. Its a batter dipped, crisply fried finger-food…with lots of onions, green chilies, ginger and of course with a touch of Indian spices.
Dal - Hot and thick lentil's soup. Worth's trying, many of my cooking class students (Americans) loved it and now they are happily cooking it ever-after.
Chicken 65 – This is a hot finger food, much like buffalo wings. Its the dish you may want to order it as an appetizer at the bar. Yum.
Drinks – Well, in one area…that I completely lack knowledge is about our not-so-great drinks options. I am absolutely clueless to give you any guidance; I come from a true Gandhian family, teetotalers. So, here is what I found out for you all…
There is always several varieties of beer options to go with your spicy meals.
Indian food has scant consideration, when it comes to wine. Just unfurl your own conventional wisdom of white and red wines for the type of food you order.
Additionally, the more alcohol level may also magnify the heat in the food.
The complexity of the dish; aromas, flavors and spiciness can collide with your wine! You need to know, when to stop and smooth things out with yogurts and salad.
Non-Alcoholic Beverages We Indians usually drink cold water along with our spicy food and have our other non-alcoholic beverages as desserts. See, if you could practice that, its an easy way to beat the heat of the dish.
Cold Beverages
Lassi - Yogurts based sweet smoothie. Probably the only option for you to order.

Mango Juice - If you have any Indian friends, they would have already told you stories about how much they love mangoes. To make my point simple…its a mango smoothie, a good way to finish your meal.
Lemonade - Very similar to American lemonade, may be with a twist of mint leaves.

Warm Beverage
Madras filter coffee - Indian brewed coffee with lots of cream and foam. Much like your cappuccino
Chai - Warm, spicy chai tea latte
Main Course
Dosa - If you are at a South Indian Restaurant…you wouldn't miss this for sure, bearers will be walking around serving a really, reeeeeaaally large paper like crisp folded crepes. The very sight of it, will make you want one. So, there is nothing from my part to talk you into this! Are you waiting for my explanation?
Curry – Curious for curries? Are you ready for some delightful sweet, savory and saucy experience? A delicate balance between spices and thickening agents like almond paste and coconut milk!
Chicken Tikka Masala -  If you see this on the menu, order it. Its never been a mistake. The chefs in America are pretty  good at making this dish, after all they have been asked to dish out this for more thousand times!! And, we haven't really got bored, yet. Well, jokes apart…its something like this: bite-size chicken pieces, simmered in a delicious sweet-savory sauce.
Vindaloo - Are you in the game for some real spicy dish? Its a fiery hot – super spicy, meat based curried dish. When they say, 'its hot'. It's really is 'hot'. So, do not compare with your Louisiana hot sauce or Hot buffalo wings…its could be much strong than that. Once, you are comfortable with Indian food (at least after dinning for couple of more times)…you can go for it.  But, until then…just wait for your taste buds to settle in.
Madras Chicken Curry – If you see this on the menu, you should order it.  Its bit hot with peppercorns, but well-toned down with coconut milk…makes it a popular dish in the restaurant's these days. They usually serve it with mild rice pilaf. Its an amazing combination. Madras is a name of a Metropolitan City in India…additionally my native place.
Palak Gosht - Most popular lamb dish with mild aromatic spices. The curry may look alarmingly 'green', but nothing to panic…it wouldn't be 'very hot'. The color is due to well-pureed spinach based sauce.
Vegetarian's Options - If you are a vegetarian, no one will embrace you well-enough than we Indians.

  As the country boasts itself with more than 70% of vegetarians. However, we practice lacto vegetarianism in India, with copious amounts of milk, yogurts, ghee and milk sweets… but no cheese. Yeah, we have just one kind – Paneer (the cottage cheese)!
Saag Paneer - This dish is made with pureed spinach, topped with fried cottage cheese. Its just amazing…the flavor is so mesmerizing, it will push you to the next level of learning to cook it. Over the years…I have given several cooking classes to the Americans, but they were very eager to learn this particular dish.
Malai Kofta Curry - Imagine croquettes, now if it is only made of cottage cheese…that Kofta. And if they are going to put them in Indian curries…yep, that's malai kofta curry. What a wonderful idea.
Paneer Makhani - The rich and flavorful sauce, with  floating cottage cheese cubes…simmered to perfection. Its divine and you got to try this.
Rice – You have probably figured it by now, there is going to be plenty of rice dishes on the menu. If you are a rice lover, turn to Indian food.

Biriyani - Its everyone's favorite food, I won't be surprised if they announce it as Indian National Food in future. Its an awesome preparation with too many different spices, fragrant infusions, ghee fried basmati rice…quite popular in the subcontinent.
Pilaf - The other option is a milder version of biriyani is pialf, probably you heard of this dish a number of times. Yes, something like paella. And for your information, paella was born, when somebody in the Spain tried to fix pilaf.
Tandoori – Tandoori means 'clay kiln oven', an ancient technique involved to prepare meat and breads. Imagine your charcoal oven or spit roasted meat dishes, something like that.

  Either it be chicken or lamb; its gonna be very tasty for the beginners. We Indians love our meat to be done thoroughly…almost to the level of 'where the flesh keeps falling off from the bones'…Get the picture? So, you need to specify 'medium, rare' to the bearer! Definitely, they will cater to suit to your needs.
Note – By now, you are probably aware of the fact that you cannot expect beef or pork in Indian restaurants; however there will be plenty of other options for you to try. Chicken, lamb, goat meat  and huge varieties of sea food selection. If you haven't yet warmed up for a goat's meat, you can settle for lamb's meat…a close relative of goat.

We consider goat  meat as red meat and also call it as Mutton, I know its a mistake…somehow we have been misspelling it for years, now!!!
Breads - Almost all Indian breads are flat breads, it could be leavened or unleavened. It is not served at the beginning of the course, while bread itself is a main course along with dipping sauce options. That is usually a curried dish or stir-fried vegetables. However, we do not mind, if you decide to roll the breads with a tandoori meat. Just do freestyle and enjoy eating with hands. The breads could be used as a spoon, to scoop of the liquid dish like dal and curries.
Naan - Oven toasted leavened flat breads. They are super-soft, you will be almost tempted to bag some and sleep on it. Naan can be paired with Indian curries and its probably the best way to scoop away the sauces.
Roomali Roti - Other popular flat bread in the restaurant's are this super-thin (like a chiffon material), but very very large to the size of a coffee table, but comes well-folded…compact to the size of the napkin! How does this sound to you…tempting, isn't? Try this, its very hard to resist.
Note: And, again you will be expected to do little math, when you dine in the Indian restaurants! For the last bite of bread, there should be enough curry left in the bowl. But, if you have in excess, you can always order some more breads! But, again if you have more flat breads, but not enough curry to go with it?! We Indians will think, your mathematics skill is dull-dull-dull, just kidding.


Side Orders
Raita – If you are looking for salad in the menu, you will be disappointed. We Indian's eat our leafy vegetables and other vegetables in a different way, stir-fried or cooked! The only possibility of raw vegetables in our food is salad tray…without any dressing! So, I could safely argue (like I always do) that the raitha is our salad, where we toss number of shredded vegetables (ranging from carrots, cucumbers, red onions, tomatoes) and top it off with a tub of yogurts! Yes, you read it correctly the first time…one tub of yogurts for every ounce of vegetable. It may sound weird, but its an amazing addition to our Indian meals. Especially, when you are having that kind of crazy spicy dish…the raitha goes very-well to mellow down everything for you.
Bhindi Masala - If you are a Southerner, you know this vegetable as 'okra'. North Americans may wonder what kind of vegetable is this. While they are on their 'thinking tab'…you can order a plate for yourself. We make it too good, unlike fried okras…its a stir-fried version and am positive you will love it.
Alu Gobi - As I told you all earlier, we dish-out  quite a number of vegetable dishes than an average American restaurants can do. So, this is again a dish of potatoes and cauliflowers. Well, potatoes are side orders for us, unlike a main course. Anyway, this dish is hot, spicy and highly flavorful. Hope, you will enjoy it.
Veg Jalfrazi - Okay…let me ask you this? Have you eaten in the Mexican restaurant's before? Had 'Veg Fahita', ever? If the answer is yes, its very close to that…sauteed vegetables, such as onions and bell peppers with a hint of Indian spices.
Desserts  Most Americans find Indian desserts to be very sugary, and complain about the weird floral smell. This assertive aroma is from the fragrance enhancers we use in our sweets, like…saffron, rose petals, vettiver, vanilla, cardamom etc. However, its only the case in the generic restaurants but my American friends were very thrilled to have my home-made sweets. Probably because I myself have cut down a lot sugar and toned down those fragrances, I suppose.
Kheer - You know 'rice pudding' right? Its the same, Indian version of it.
Kulfi – Home made ice cream with a strong butterscotch note! Its done with reduced milk and topped with dry fruits and nuts. Sinfully rich and highly flavorful treat.
Gulab Jamun - Unless you have a serious sweet-tooth, just stay away from it. Its a deep-fried solid milk balls, which is soaked in strong sugary syrup. Imagine dripping maple syrup from your pancakes…just like that, but only amplified by about hundred times.
© 2010 Malar Gandhi,  All Rights Reserved. This material may not be published, broadcast, rewritten, or redistributed.